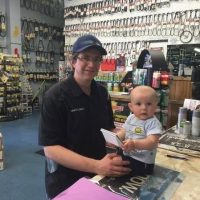 Neil Harrison
Owner/Manager
A 3rd generation owner, started working at the store once he could hold a duster, then summers as a stock boy, then summers as a delivery boy before heading off to college. There he received a diploma in Tool and Die and HR Management. He followed that with 1.5 years as production supervisor before returning permanently to Whitelaw the summer of 2005.
Whitelaw Automotive and Industrial Supply started out as the "general store" and how slowly transormed into being industry leaders int he fields we felt we were best at. With 100's of supplier catalogs, we can still supply 99% of what our customers ask us for, but our areas of expertise is where we truely shine. Our staff have been trained extensively on PPG Paint and related supplies, which has led us to become a stand out with PPG paints as Platinum distributor covering most of Southwestern Ontario's paint and related supplies requirements. Our counter staff have countless hours matching belts and bearing as to get your operation up and running as fast as possible with not only the right parts, but most times, the best price when our venders have the price point option.
History
In 1958 Whitelaw Machinery Co. bought Axelrod Automotive and began operations as Whitelaw Automotive & Industrial supply Co. Ltd. at 600 Dundas St. Woodstock Ontario.
Axelrod's had been a traditional automotive jobbing business that supplied the more than 60 service stations that served Woodstock in 1960. We also operated an automotive machine shop department that carried on until 1991. The part of Axelrod's business which proved unique and active was the industrial products that they had access to. Industrial bearings, belts, power transmission products and,  fasteners broadened both the customer's base and the scope of the services that Whitelaw's could provide. In 1977 we moved to our current modern facility at 572 Main st. which is right across from Whitelaw Machinery.
Whitelaw Automotive has had to diversify over the years in order to adapt to the new economic conditions in Oxford. More competitors and more specialized service providers has made business a greater challenge then even Robert Whitelaw faced in 1856. The strength of the company is the expertise and commitment of our staff to service our clientel.
Whitelaw Today
At Whitelaw Automotive and Industrial supply we pride ourselves on being a one stop shop for many customers.  With our wide range of automotive parts, short of Dealer only parts, we've got you covered for all your aftermarket parts needs.  Need paint for your car, we've got that too ranging from touch up bottles to supplying large car and fleet body shops.  We stay true to our industrial roots and have wide selections of industrial and agricultural bearings and belts.  Our extensive belt inventory also has your lawnmower and snow blowers needs met.  The performance and accessory market is new to us in the last 5 years and is growing steadily every year.